Best Office Chair for Big and Tall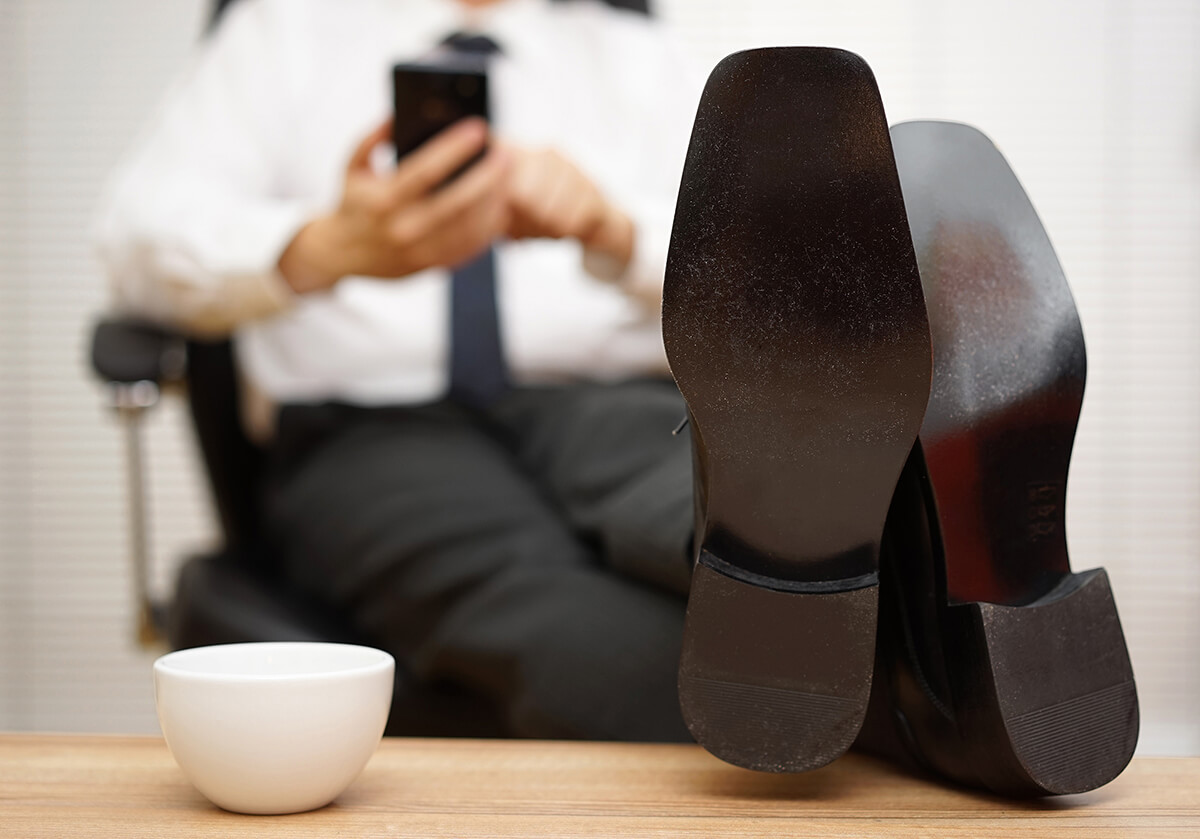 When you are a big or tall person it can be hard to find the right desk chair because the average chair isn't built with you in mind. Like the story of Goldilocks and the Three Bears, it can take a few tries before you find an office chair for a tall person that is just right. But there are some tips and tricks you can utilize while browsing for big and tall office chairs that will help make the process easier, saving you both time and money.
Education Is Key
Nick McElhiney, owner and operator of Ergonomic Evolution, thinks that knowledge about what your body should ideally be doing while sitting in a chair is half the battle. He advocates for adopting an open trunk posture, which encourages individuals to position their hips slightly above their knees. In an open trunk posture, the angle of the torso and legs originating at the hips should be greater than 90 degrees. Sitting in this way (sometimes known as active sitting or dynamic sitting) reduces weight and stress on the lower back and hips, transferring the weight to the legs and feet so that the hips roll forward. This helps them to shift their weight throughout the day and energizes the leg muscles boosting circulation in the legs despite sitting for an eight-hour work day.
Keep Your Options Open
When your height and weight don't necessarily fall within the average range, it's easy to become complacent about the fact that clothes, cars and furniture aren't always comfortable for you. Linda Miller from EWI Works, really urges against committing to chairs that are too small for your frame, since "the individual may not be able to raise the chair high enough, creating discomfort in the hip, knees and lower back. A proper fitting adjustable chair is crucial to comfort."
When it comes to office chairs for the big and tall, there are actually many adjustable options you can choose. McElhiney recommends looking for something that has the ability to not only adjust for height, but also adjust the forward tilt, the seat pan and the back angle so that you can properly achieve the open trunk posture and engage in active or dynamic sitting throughout your day.
Get to Know Your Chair
One of the biggest mistakes Miller sees people make in the office is being unfamiliar with the features of their office chair. Thinking less about your desk chair as a seat and more as a productivity partner might help you "respect the chair," especially if you are big and/or tall. When it comes to big and tall office chairs, here is what Linda Miller recommends becoming familiar with:
Know how to make adjustments.

This goes not only for the height of your chair, but also for the individual components that make your chair more ergonomic, such as the forward tilt and the back angle. Be sure to allow two inches between the seat pan and the back of your knees and ensure that your feet are planted firmly on the floor for optimal posture while working.

Find out if your work surface is adjustable.

Many offices now offer desks that are adjustable in height, so you could have the option to make the switch to a standing desk throughout the day. Even if you don't feel like standing during your work day, a desk that has an adjustable height can work in conjunction with a desk chair for a tall person, which can help to protect your knees from hitting the bottom of the desk and keep your posture in alignment.

Understand what's not supposed to happen.

Educating yourself about what the ideal positioning is for the best office chair for a tall person is your ultimate line of defense against sacrificing yourself to discomfort. If you're big and/or tall, Miller wants you to know that a great chair will allow you to firmly plant your feet on the floor, allow your hips to be level with your knees or slightly higher, provide you with lumbar support, prevent you from feeling that you are being pushed forward or straining your abdominal muscles, and allow you to get both in and out of the chair easily.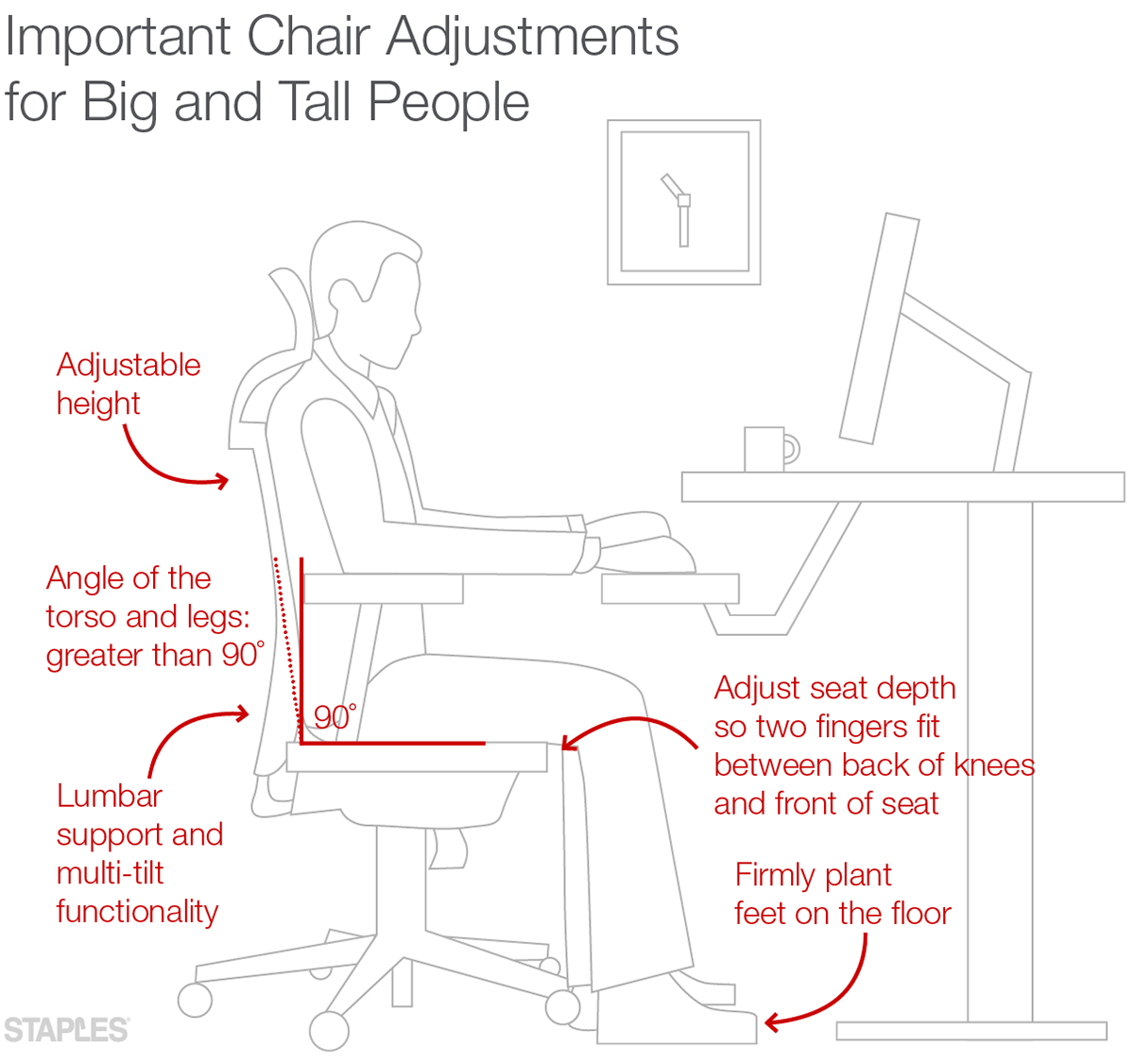 Overall, the best office chair for a big or tall person is one that makes you feel comfortable and allows you to do your best during your work day. Investing in the right chair for your frame will not only prevent you from developing chronic pain, but also allow you to thrive in the office.