Why Are Chairs So Expensive?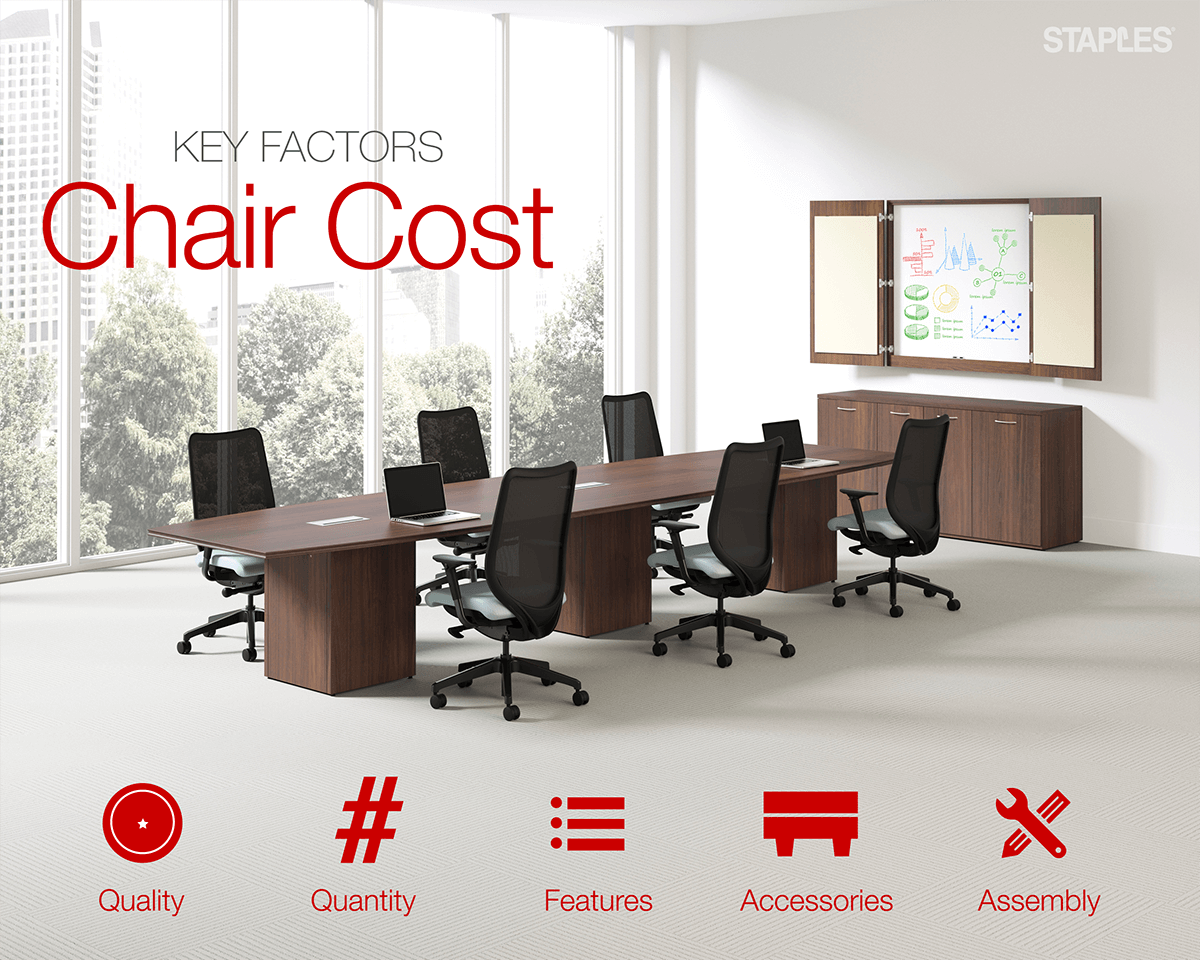 Whether you're looking to outfit an entire office building with seating, select the perfect chair for your home office, or make your dorm room a little more comfortable—shopping for a new chair can be really exciting. (We would know! A poll conducted by Staples indicated that 31% of people get as excited about a new office chair as they do a day off!) We also know that no matter your situation, a new chair can be a big investment. To get the most out of this investment (and make the most of your budget!), it's important to understand a number of considerations when shopping for a chair you'll use for many, many years—and they all affect price.
How much should I expect to spend on a new office chair?
You'll find a diverse range of office chair prices. Some may cost as little as $150, while other executive chairs may cost even more than $2,000. While you can find a good chair within the $150 to $400 range, many chairs with more customizable ergonomic features can cost between $200 and $1,000. Depending on where you are in your life and career, you may want to opt for a less expensive chair. However, you may be more inclined to make an investment if you're working in a professional setting and view your chair as a valuable tool in getting your best work done.
What is the average price of a chair for the home?
The cost of a living room chair or accent piece can range dramatically in price depending on whether you're looking for an eye-catching antique or a specific style of chair. Depending upon the style you're looking for, on the average, you can expect to pay between $800 and $1,200 for a high quality living room chair. Though the price of a new chair can be intimidating, investing in a new piece can often be more cost-efficient than restoring old seating. The cost of reupholstering chairs often only includes labor, re-stuffing, and re-covering and does not factor in the cost of material, making it potentially more pricey than buying a new chair.
Why invest in a quality chair?
You spend just as much time in your office chair as you do your bed.

Back in 2010, Staples conducted a poll and learned that people spend just as much time in their office chairs as they do sleeping in a bed. And while many people will test out mattresses in a store and read up on the benefits a particular brand may have on their posture, comfort, and alleviating neck and back pain, we learned that 71% of people do not have chairs with adjustable lower back support.

You only have to buy a good chair once.

Purchasing a high-quality new chair can give you a piece of furniture that lasts for years (or even decades). The initial, up-front cost of buying a new chair may actually be less over time than having to replace a poorly-constructed chair every few years, or compared to lost productivity and decreased enjoyment of activities due to discomfort.
As award-winning interior designer and television personality Yanic Simard said previously, "A quality, solid, long lasting chair will be more pricey, but you will thank yourself when you don't have to go shopping for replacements every one to two years! Buy the best and you'll only cry once!"
In recent years, standing desks have become very popular among office professionals. However, as several ergonomics experts have mentioned, it's best to alternate between periods of sitting and standing when using a standing desk. Due to its height, drafting chairs help make the transition between sitting and standing at the same desk all day much easier on the back, feet, and neck.

Relief from chronic back pain and other disorders.

According to the Canadian Chiropractic Association, over half of all Canadians suffer from low back pain. The causes of low back pain range from an overall increase in BMI among the general population and the fact that 75% of all workers sit for prolonged periods of time, resulting in back fatigue and pressure on spinal discs in the lower back. Montreal's Concordia University notes that non-ergonomic workspaces can lead to other cumulative trauma disorders such as tendonitis, carpal tunnel syndrome, circulatory problems, and neck/shoulder/back tension and strain.

While professional medical therapy can help to relieve back pain, investing in an ergonomic chair that is properly adjusted to accommodate your body type can help to maintain the benefits of chiropractic therapy for a bad back.

Improve your mood.

Beyond ergonomics, having a quality piece of furniture in your home or office is another incentive to invest in a new chair. A old, shabby looking chair can be an eyesore and make your home feel less like home. Studies have shown that home furnishings can play a role in influencing mood and feelings of comfort, belonging, and a greater likelihood of engaging in enjoyable activities and conversations.
Additional Factors that Impact Price
When shopping for a chair for yourself or a brigade of coworkers in your office, there are some other points to ponder to help you make your decision.
Assembly:

Some chairs may be less expensive because they do not come fully assembled. In this case, determine if the cost savings are worth the time you'll spend on manually putting together your chair(s)

Quantity and quality:

If you're purchasing chairs for a conference room or an event space where people won't be sitting for any length of time, it makes sense to opt for stylish, albeit less expensive chairs that may lack an array of ergonomic features. However, if you're looking for just one chair for yourself or are purchasing chairs for employees who will be using them for 8+ hours each day, it may make sense to set your budget a little higher to get better features.

Weigh your options:

Don't be afraid to take your time to find the right chair. Compare prices on chairs you like and take a look at features they offer. Shop online and then visit a brick-and-mortar store to see the chair for yourself. Buying a chair is a major purchase and one you won't want to regret.

Return policies:

You may not know how comfortable a chair is if you only sit in it for five minutes in a store. Take advantage of return policies that allow you to test out your chair for an extended period of time. Staples offers a 30-day return policy on all chairs, giving you plenty of time to make sure you've picked the right one.

Protect your investment:

Staples also offers a furniture protection plan that covers torn or cracked upholstery, normal wear and tear, damage to the chair due to accidents or even mechanical failures. Having the option to replace or repair a favorite chair can give you peace of mind that you'll get good use out of your chair for many, many years.

Accessorize for health:

If your budget only allows you so much, lower-cost chairs can also be outfitted with ergonomic accessories (such as a backrest support for the lower back or an adjustable footrest) to make them more comfortable and better for your overall health.
When weighing cost and other factors, buying a chair is a major purchase. Find the chair that's best for you and your budget—and one that you will love for years to come.