Navigate to Top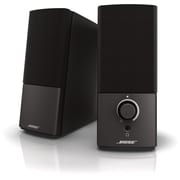 Bose® Companion 2 Series III Multimedia Speaker System (354495-1100)
Item : 219941
Delivers high-quality sound and a significant performance upgrade over your computer's original speakers and most conventional speakers.
Proprietary digital signal processing improves performance, delivering crisp, clear audio at all listening levels.
TrueSpace® stereo digital signal processing circuitry reproduces wide, natural sound from only two speakers, bringing more life to music, games, video and streaming media.
Bose® Companion® 20 Multimedia Speaker System
Item : 219940
Advanced speaker design delivers powerful low-note performance and room-filling sound, without the need for a separate bass module.
Enjoy full, natural sound in front of your computer or across the room, from just two speakers.
Exclusive TrueSpace® stereo digital signal processing reproduces spacious, natural sound, bringing your music, videos and games to life.
199.0
$199.00
269.0
$269.00
Each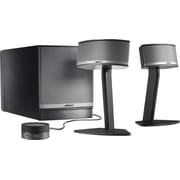 Bose® Companion® 5 Multimedia Speaker System
Item : 219939
TrueSpace® surround digital processing circuitry. Innovative Bose® technology delivers a vivid sound experience that seems to surround you – from just two visible speakers – by focusing the audio experience directly around you. Sitting at the computer, you enjoy much of the riveting performance you might expect from a five-speaker system.
Proprietary design. Patented signal processing technology combined with unique speaker design allows these small speakers to deliver enveloping sound that puts you in the middle of the action – without putting you in a room full of equipment. All you see are two small, elegantly designed speakers on your desktop.
Digital 5.1 audio playback. Brings music, games, movies and other 5.1-decoded material to life with much of the performance you'd expect from a five-speaker system.