Navigate to Top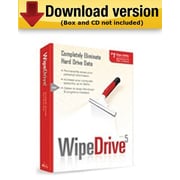 WipeDrive 6 for Windows (1 - 2 User) [Download]
Item : 1688289
Language: English only
WipeDrive quickly wipes your computer of all your personal data. Wipe your hard drive clean of Trojan horses, worms, viruses, and other questionable data. After wiping your hard drive, reinstall Windows and start with a clean slate
Not sure how to reinstall Windows? No worries, we have detailed instructions to guide you through the step by step process.