Navigate to Top

Worry less about what tie you're going to wear and more about getting to the airport on time by using one of these tie storage cases. These cases keep several ties crisp by providing organized storage space packaged in a durable padded leather exterior covering. They make the perfect gift for someone who needs to be ready to travel often to meet the demands of the job and are useful tools for organizing your closet space.

Organized Storage
Tie storage cases keep your ties in one location to prevent them from getting lost among your clothing and other accessories. Fold your ties and secure them neatly in a tie storage case to keep them looking as fresh and crisp when you pull them out of your suitcase as when you put them in. Group your ties by colour or by outfit to accessorize for easy decision making when you're in a hurry to get to your meeting.

Durable Construction
Zippered sides and a padded leather exteriors make tie storage cases the perfect gift. These tie storage solutions are durable enough to throw in a suitcase and take on your next business trip and are built to last for years.

Portable Convenience
Keep several ties in a tie storage case in the closet to grab for last-minute business trips. Hang the tie storage case up when you get to your hotel room to quickly open it, and get out the perfect tie to go with your suit. Store other small accessories inside to coordinate with the ties and complete your outfit.

More
Less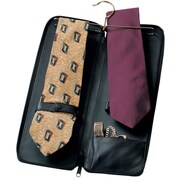 Royce Leather Tie Case, Black
Item : SS3360374
Padded Top grain nappa leather exterior, gold tone hanger and leather straps that hold up to six ties. Also featured is a small leather zippered pouch, perfect for storing jewellery and accessories
16-1/2"H x 5-1/2"W x 1-1/4"D
Black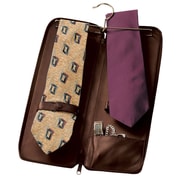 Royce Leather Tie Case, Coco
Item : SS4522834
Padded Top grain nappa leather exterior, gold tone hanger and leather straps that hold up to six ties. Also featured is a small leather zippered pouch, perfect for storing jewellery and accessories
16-1/2"h x 5-1/2"w x 1-1/4"d
Coco