Navigate to Top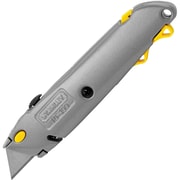 Stanley-Bostitch Quick-Change Retractable Utility Knife
Item : BOS10499
Quick-Change Retractable Utility Knife offers tough, long-lasting all-metal construction that can slide the blade into three positions for use.
Blade changing is simplified with a tool-free, push-button design. Swing-out blade storage keeps fresh, sharp blades safely in the palm of your hand within the 6" handle.
With blade fully retracted, the nose of the utility knife acts as a string cutter.