Navigate to Top

Get yourself a workspace that works for you with the Sauder Transit Home Office Collection. Made of high-quality materials and carefully designed to stand up to the demands of the workday, these pieces are the perfect way to upgrade your office. By keeping you comfortable, storing your documents and giving you the space to work more productively, these furnishings can inspire you to accomplish great things.

Contemporary Style
The Sauder Transit Home Office Collection has a contemporary, minimalist design that emphasizes function without sacrificing style. The pieces have a balanced, symmetrical appearance that is pleasing to the eye. A fine wood grain finish adds a classic touch to the furniture. Some pieces are finished on all sides, allowing you to place them wherever you like without sacrificing appearance. The storage spaces have a simple, elegant look that allows you to display your personal items without overwhelming them.

Superior Versatility
The Sauder Transit Home Office Collection is designed to support almost any style of worker and any kind of task. Each piece of furniture incorporates several thoughtful design features that allow them to be put to multiple uses according to your demands, ensuring that you will not be wasting valuable space.

High-Quality Construction
Design features such as steel frame construction are used to give the Sauder Transit Home Office Collection outstanding durability. Dependability, adaptability, and functionality are the most important things to keep in mind when selecting office furnishings, and all three of these qualities are found in this set. These strong, long lasting pieces can stand up to repeated use and long hours with ease.

More
Less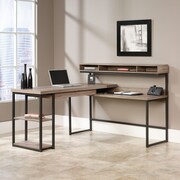 Sauder Transit L-Desk
Item : 1013890
Finished on all sides for versatile placement
Drawer features full extension slides
Elevated shelf with cubbyhole storage