Navigate to Top
Use post-op shoes to prevent further damage to your feet after surgery for a variety of conditions. These shoes adjust to provide a perfect fit and apply even pressure for better healing. Soft inner linings keep your feet comfortable during longer periods of wear, and durable materials ensure longevity in use.

Adjustable and Comfortable
Adjust post-op shoes to personalize your fit thanks to options with D-ring and Velcro closures. Soft inner lining cushions your feet, reducing strain and tension and speeding up the healing process. Choose a pair of these shoes that provides ample room for bandages and dressing to ensure a perfect fit.

Durable Construction
Select post-op shoes with confidence in their longevity thanks to construction from durable materials. Select shoes made from full-grain leather for outdoor wear, or choose lightweight, breathable fabric shoes for indoor use. The antibacterial surfaces on some shoe options and machine-washable fabric ensure your shoes are safe and clean each time you put them on.

A Variety of Uses
Stay active after foot surgery by keeping post-op shoes in your closet. Whether you've had bunions, plantar corns, or bone spurs removed or had lumps, bumps, and other protuberances sanded down, these shoes offer the even pressure and firm support needed to keep you walking comfortably.

Versatile Sizing
Discover post-op shoes in the perfect size for your feet. These shoes are unisex, so you should measure your foot and use sizing guides to select the best fit. Post-op shoes also come in a variety of widths that cater to both extremely narrow and wide feet, so choosing the best fit for your feet and condition is simple and convenient.

More
Less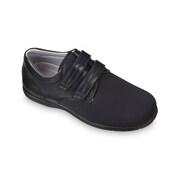 Bios Biotime Bryce Shoes
Item : SS3732785
Biotime Bryce Shoes has full grain leather uppers, leather lined quarters, suede heel pockets
Sizes: Unisex, euro 36 - 46, combination leather and stretch upper Double strap closure system
Widths available: M, W, XW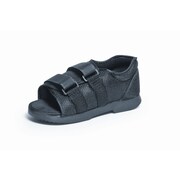 Bios AliMed® Classic Women's Post-Op Shoe, Small
Item : 1187052
All the support and comfort of higher priced models, including a cushioned, non-skid, rigid rocker sole and molded heel counter for comfortable support and complete, shock-absorbing stabilization
Durable upper with soft inner lining allows foot to breathe while molded heel collar contours around heel for better fit
D-ring closure ensures even compression and adjusts to accommodate bulky dressings and edema, while open-toe design helps prevent undue friction on toes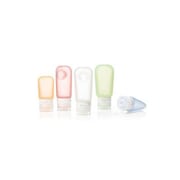 Bios AliMed® Classic Men's Post-Op Shoe, Medium
Item : 1187056
All the support and comfort of higher priced models, including a cushioned, non-skid, rigid rocker sole and molded heel counter for comfortable support and complete, shock-absorbing stabilization
Durable upper with soft inner lining allows foot to breathe while molded heel collar contours around heel for better fit
D-ring closure ensures even compression and adjusts to accommodate bulky dressings and edema, while open-toe design helps prevent undue friction on toes