Navigate to Top

Attract customers to your retail store, country fair, farmer's market or real estate open house with a variety of large, eye-catching outdoor signage. Use outdoor signs to reinforce your advertising campaign, reminding customers that you offer the best products and unbeatable deals, that they've come to the right place and that they simply must drop by.

Attention-Grabbing
Grab customer attention with visually-appealing outdoor signage. Whether on foot or in a car, customers can't resist looking at a huge outdoor sign fluttering in the wind. Promote your store opening or campaign with large message flags or 16-foot swooper banner kits. Create curiosity and excitement by lining them up along the road leading to your store, or strategically placing them around the neighbourhood to funnel in customers to your store.

Compelling
Let your brand rise above the competition and make it past today's short attention spans. Outdoor signage complements and reinforces other forms of advertising by making your brand or campaign visually stand out from the rest. Use a series of outdoor signs to tell a short story that compels customers to come inside and check out your goods or services.

Durable
These outdoor signs are designed to withstand the test of the elements. The message flags and swooper banners are made of durable lightweight polyester. Swooper banner poles are made of double-walled aluminum with steel spikes that dig 20 inches deep into the ground. Alternatively, swooper poles can be mounted onto an aluminum tire bases for display on concrete or asphalt surfaces.

More
Less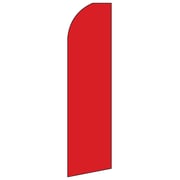 Swooper Banner Kits with Pole & Ground Spikes
Item : SS2221398
Banner is approximately 32" wide and 132" tall, however once fully assembled, pole reaches 16' above ground!
Pole made entirely out of aluminum with a double wall at base for added stability
Ground spike is made from steel and penetrates at least 20" into ground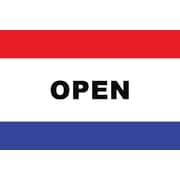 Message Flag, 36" x 60"
Item : SS2221397
100% Polyester 36" x 60" flag for indoor or outdoor use
Screen printed with all sides stitched for extended use
Comes with 2 brass eyelets/grommets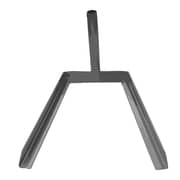 Tire Base for Swooper Pole
Item : 460493
Made completely of Aluminum
Requires heavy weight (sand bags, water bags, tire, etc.) for balance
Item size: 19" H. x 16" W. x 12" D.