Navigate to Top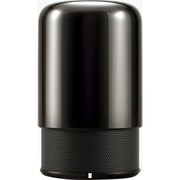 Hidden Radio2 Wireless Speaker System with MagicLift, Gunmetal
Item : 2424796
MultiPoint functionality, Touch Controls, Magic Lift, Bluetooth 4.0, 12+ hours of playtime.
Iconic, award winning design. The HiddenRadio2 combines the most advanced technologies with incredible looks.
The HiddenRadio2 is the only compact portable speaker that uses a mixture of large and small speaker drivers to deliver crisp true audio in a compact form.