Navigate to Top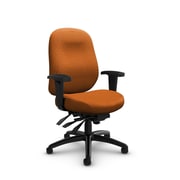 Global Granada Deluxe Mid Back Multi Tilter, Match Fabric
Item : SS4559266
The multi tilter mechanism provides personalized adjustment options with infinitely adjustable back and seat angle, changing the angle of your thighs and torso to relax back muscles and reduce disc pressure during forward leaning tasks.
A manual seat depth adjustment changes the depth of the seat to accommodate the length of your thighs, avoiding pressure behind your knees.
Soft Descent pneumatic lift raises and lowers the chair slowly and smoothly, without sudden jerking motions.