Navigate to Top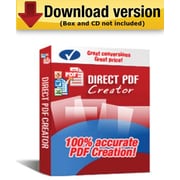 Direct PDF Creator for Windows (1 - User) [Download]
Item : 1688804
Language: English only
Features: Translate any printable file to PDF - PDF Creator is a virtual printer that lets you translate any printable files in your system into PDF format.
This includes Word, Excel, PowerPoint, HTML, Photoshop, CAD, CorelDraw, Illustrator files, Images like JPG, BMP, GIF and many more.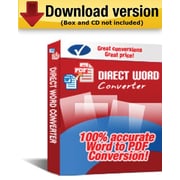 Direct Word Converter for Windows (1 - User) [Download]
Item : 1688135
Language: English only
Direct Word converter is convenient to use as it can be accessed from the Word interface itself. All you need to do is open the Word file, click on the 'Create PDF' icon and select a suitable location to save your PDF file.
Key Features: Accurate, high quality conversion of Word to PDF Converts your Word doc. to PDF with a high degree of accuracy retaining layout, formatting and graphics.