Navigate to Top

Give your office staff plenty of space to work hard with the Bestar Contempo collection's versatile desk and storage styles that offer a huge working surface and abundant leg room. Attach a two-door cabinet or lateral file drawer to keep important items organized and safe from damage. The credenza offers both open and closed storage to keep supplies readily accessible. All items fit together in a layout that works best for you.

Open Design
With a large amount of desk space and plentiful leg room offered by the Bestar Contempo collection, your whole office can work comfortably and efficiently. The desks attach to the credenza in an L-shape or a U-shape, or you can leave it freestanding. Keep computer accessories, reference materials, or works in progress on the spacious desk, with plenty of room to spare.

Time-saving Features
Workers can keep files and materials nearby with multiple storage options, all easily accessible from their desk. There is plenty of space to share the desk as workers collaborate on a project. Add on extra storage as needed, keeping everything your staff needs within easy reach. The furniture pieces in the Bestar Contempo collection are designed to work together.

Versatile Setup
Multiple desks and storage pieces can be combined in a variety of ways. Storage cabinets above or below desk level — use what works best for you. Whatever your office layout, there is a configuration that maximizes your available space. If more storage becomes necessary, go vertical by adding cabinets on top of the credenza or desk. The Bestar Contempo collection is versatile, so you can be creative with how you set it up.

More
Less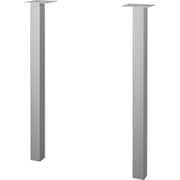 Bestar Contempo Metal Legs, Silver, 2/Pack
Item : 937268
To be used with either the Bestar Contempo Work Surface (Item # 937253), or the Bestar Contempo Bridge (Item # 937267)
Leg levelers for adjustment
2 legs per pack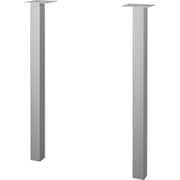 Bestar Contempo Metal-Legs, Silver, 2/Pack
Item : 1438023
To be used with either the Bestar Contempo Work Surface (Item # 937253), or the Bestar Contempo Bridge (Item # 937267)
Leg levelers for adjustment
2 legs per pack