Navigate to Top
3D scanners allow users to quickly capture the dimensions and appearance of objects by scanning them into digital form. These scanners work with 3D printers to help reproduce original sculptures and prototypes, and many feature easy-to-use desktop or handheld designs.

Quick Scanning
3D scanners cut down on the time it takes to capture three-dimensional objects by scanning the entire unit at one time and capturing hundreds of angles. This eliminates the need for constant scanning and rescanning using 2D devices to create a three-dimensional digital copy. Quick scanning can reduce labor costs and help deliver greater accuracy with a lessened margin of error.

Accurate Capture
Many 3D scanners feature exceptionally precise capture tools that make hundreds of measurements per rotation, delivering digital copies that are very close to the original models scanned. Enhanced accuracy reduces flaws in the copied versions, and the ability to capture with greater precision allows users to more efficiently scan in items with more intricate textures or designs.

Simple Replication
More advanced 3D scanners work directly with 3D printers or their software to quickly replicate scanned objects. This eliminates the need to save the scanned item in one format, convert to another format and present that converted version to the printer for prototype creation. Simplified replication saves time and can help eliminate flaws introduced during data conversion.

Multiple Designs
Some 3D scanners have portable designs that let users hold them to ensure the correct angles scan each time, and others fit neatly on desks to help make the most of available spaces. Users can choose between design types to find one that works for their needs or combine the data from multiple scanners for even greater accuracy and precise results.

More
Less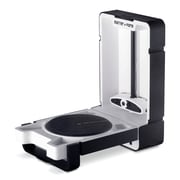 Matter and Form (MFS1V1) Desktop 3D Scanner
Item : 1566774
FULL COLOR PRECISION: Capture details as small as 0.43 mm and capture size within ±0.25 mm
WATERTIGHT MESHES: Free software with regular free updates allows easy exportation to STL and OBJ formats with a single click of a button
COLLAPSIBLE AND PORTABLE: The scanner's sleek folding design allows for easy storage, transport and set up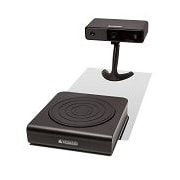 Afinia 3D Scanner with Turntable, (ES360)
Item : 2273874
The Afinia ES360 desktop 3D scanner creates printable 3D models with high accuracy for a range of creative 3D printing applications
The scanner is a perfect fit for educators, designers, and home hobbyists looking to expand the capabilities of their 3D printer
With a low price point and fast, accurate scanning (about 0.1 mm), the ES360 delivers detail and performance similar to an industrial level scanner